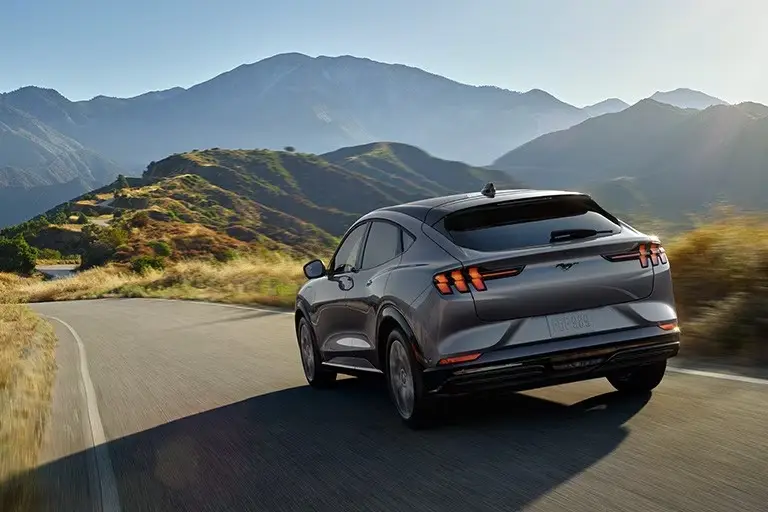 Wondering how factors like speed, temperature, and battery charge can affect the range of an electric vehicle? Learn about some of the ways you can maximize your range to see how far a Ford EV can take you.
Quick Links:
---
How can I maximize my Ford Electric vehicle's range during winter?
Ford Motor Company's Battery Electric Vehicles (BEV) are tested in extremely cold conditions. However, all-electric vehicles have less energy in cold temperatures compared to warm weather due to battery cell chemistry.
Temperatures below 4°C cause the electrolyte fluid to be sluggish limiting how much power is available to discharge and how fast the vehicle can charge. When temperatures are low, you could see a reduction in range, which is normal.
Tips for maximizing your BEV's range in cold weather
Park in a garage wherever possible.
Keep your BEV plugged in when parked.
Precondition your vehicle using departure times to warm the cabin and the battery while plugged in.
Use the heated seats and steering wheel (if available) for primary heat to reduce energy consumed by the Heating, Ventilation, and Air Conditioning (HVAC) system.
When charging, turn off the heater.
If your vehicle is covered with snow, brush all the snow off before driving to remove extra weight and drag.
Keep your driving speeds moderate as high speeds use more energy.
Ensure your tires are at the proper pressure.
---
How do I get the best range from my Ford electric vehicle?
You can help use less energy to improve your electric vehicle (EV) range between charges by making a few simple adjustments to your driving habits and practicing a few tips. Your EV offers useful onboard features designed to help you make the most of your charge. Here are some smart tips for eco-driving:
Making the Most of Your Charge
Set Your Interior Temperature in Advance with Preconditioning*
Your EV has a convenient feature called preconditioning that lets you heat or cool your vehicle's interior temperature to your preference by a set departure time using the FordPass®** App. When preconditioning is set up and your vehicle is plugged in, your EV will draw on energy from the power grid rather than your vehicle's battery. When you are ready to depart, the cabin temperature is comfortable without the need to deplete the charge from the high-voltage battery.
Stick to the Speed Limit***
Try to avoid quick acceleration and hard braking since they affect range. If you brake slowly and smoothly, you can help capture more energy.
Utilize Cruise Control
When traffic and road conditions permit, use cruise control to help maintain a constant set speed, and avoid driving at higher speeds, which can have a negative impact on your range.
Say No to Stop-and-Go Traffic
If you can, avoid routes that have heavy stop-and-go traffic and many stoplights.
More Wind and Weight Means Less Range
Have a trailer or roof-mounted bike rack? They are convenient but can decrease range. Skip them and you can reduce energy use.
Keep Up on Maintenance
Remember to keep up with your scheduled maintenance and the latest software updates. Being diligent can help optimize your Ford EV's performance, and having the latest rollout of software keeps your vehicle's system optimized.
For more eco-driving tips to get the best range from your vehicle, visit www.nrcan.gc.ca/energy-efficiency/.
---
How do I set the maximum charge level for my Ford electric vehicle?
To set the maximum charge level for your electric vehicle (EV):
Go to the Home icon on your vehicle's SYNC®* screen.
Select the Settings tab.
Press Charge.
Use the slider to toggle Charging Locations on, if it is not already.
Press the pencil icon next to Charging Locations to edit the information.
Press the pencil to the right of a set charging location.
Use the slider next to Max Charge Level to set the maximum charge state.
Important: Ford recommends setting the Max Charge Level to no more than 90%. This will help prolong battery life.
Press Next.
Press Next again to save your edits.
---
What is my Ford Electric Vehicle's Distance to Empty when fully charged?
Ford all-electric vehicles learn your cabin comfort preferences and driving habits using Intelligent Range.
Your vehicle must be driven for 800 kilometres or 12 hours to accurately estimate range using a learning-based algorithm.
Changes in your driving patterns can cause the values to change.
More information on your vehicle's range, or Distance to Empty, can be found in your Owner's Manual in the Instrument Cluster section.
---
What is the Intelligent Range on my Ford electric vehicle?
The Intelligent Range feature on your electric vehicle (EV) uses cloud-connected software to give you real-time updates on your EVs battery range*, taking into account factors from both your vehicle and the world around you – so you can stress less and plan for the road ahead.
How Intelligent Range Works
Intelligent Range activates automatically (no setup necessary) and pays attention to factors such as:
Your driving patterns and behaviour.
Your vehicle (e.g., how much you are hauling or towing, current battery charge, maintenance, etc.).
Connected data from traffic updates, weather forecasts, maps and other Ford EV drivers.
Your natural surroundings (e.g., geography, terrain, current weather conditions, etc.).
The feature considers all factors, does the math and sends over all the latest battery range information to your in-vehicle digital instrument cluster, as well as the FordPass®** App, to help you decide when you will need to charge again. And if you encounter any significant changes as you drive (e.g., unexpected traffic), your vehicle will adjust and update Intelligent Range in real time.
Intelligent Range and Towing
When it comes to towing and hauling, keep in mind:
If you are pulling a trailer, it will take several kilometres for the Intelligent Range to calibrate and adjust.
If you are loading a lot of heavy cargo, you will want to check your EV's Intelligent Range before and after departing – in case the added weight causes any initial estimates to change.
Plus, be sure to take advantage of additional features like the trip planner in FordPass and electric vehicle preconditioning before you go for a drive to maximize your EV range.
---
What is the range of my Ford electric vehicle?
The range of your Ford electric vehicle (EV) indicates how far you can drive before needing to recharge. It is based on the amount of energy currently stored in your vehicle's battery and your overall energy consumption. Think of the range as the "fuel gauge" for electric vehicles.
You can check your EV range using the Range Display behind your steering wheel. Plus, thanks to the Intelligent Range feature, you can rest easy knowing your vehicle is doing the complex calculations to update your EV range in real-time.
Factors That Impact EV Range
The range of your Ford electric vehicle is influenced by several factors. These include:
The kilowatt-hours (kWh) size of your battery pack. Generally, the higher the kWh, the higher the range.
Weight of the vehicle, including cargo and towing.
Climate and temperature.
Driving terrain (flat vs. hilly).
Other factors such as acceleration, driving speed and hard stops.
Tips for Maximizing EV Range
To get the most out of your Ford electric vehicle's range, consider the following tips:
Maintain a regular, daily charging routine.
Practice eco-driving to help get the most out of your range all year round, such as watching your speed, minimizing hard accelerations, and maximizing your regenerative braking. Visit www.nrcan.gc.ca/energy-efficiency/ for more eco-driving techniques.
Be mindful of how much you are towing or hauling as adding weight to your payload can reduce range.
Precondition** your vehicle to:

Pre-cool your cabin and battery during summer (especially when the outside temperature reaches over 30° C).
Pre-heat your cabin and battery when it's cold outside (especially when the outside temperature dips below 4° C).

Use air conditioning and heat in moderation.
Schedule service for help with any outstanding vehicle issues.
Only take advantage of DC fast-charging when you really need it (for example, road trips or more urgent on-the-go needs).