Watkin Motors Ford In Vernon, Okanagan, BC, Near Kelowna
Watkin Motors Ford was established as a dealership in 1915 and is the longest serving Ford Dealership in Canada. Joe Watkin was the original owner and laid the foundation for a promising future. Watkin and his three staff specialized in cars, trucks and tractor sales and would do whatever it took to put the deal together. It wasn't uncommon for sales staff to deliver a new vehicle to the customer at his ranch or farm, returning with two or three cows used as the down-payment.
In October of 1925, Watkin Motors Ford celebrated the arrival of the 1st Ford Touring Sedan to make the journey across Canada from Atlantic to Pacific.
Three generations of Blankley's have run Watkin Motors Ford. It all began in 1931 when 14 year old Jack Blankley secured a job at the Vernon Garage. Like all Blankley's, Jack learned the auto industry from the ground up – sweeping floors, pumping gas and repairing tires. He earned $28.00 per day, but $7.50 of that went to his room & board. Jack stayed with the Vernon Garage for 30 years gaining experience as partsman, parts manager, salesman and sales manager.
In 1962 Jack moved on to purchase Watkin Motors Ford, his son Don, better known as Budd, joined the business in 1966 and brother Bruce in 1976.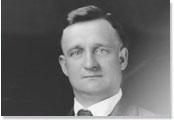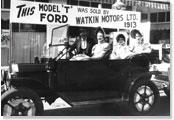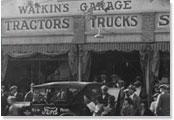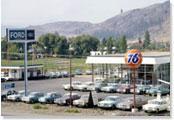 In December of 2002, Watkin Motors Ford opened the doors to our revolutionary state of the art new facility. The new building is the first of its kind in Western Canada, boasting over 28,000Sq. feet of interior space including a bright new showroom, expanded service area, automated parts system and the most up to date technology available.
The Grand Opening of the new building was held in April 2003 and more than 1000 people celebrated with the Blankley Family.
Looking forward, Budd's son, Ross is now the Dealer Principal. Watkin Motors Ford is one of Vernon's largest employers, with a genuine family atmosphere as a large number of employees have been a part of the family for years. Friendly faces you can trust and most certainly recognize when you walk thru our doors!
Watkin Motors Ford
The philosophy expressed below describes the very heart and soul of how we at Watkin Motors Ford work with each other to provide the "best customer experience".
We understand and encourage the values of a family that respects caring, compassion and honesty
We develop and maintain long, loyal, relationships with our customers while understanding and respecting their needs
We work in an atmosphere that encourages open dialogue, mutual trust and develops an appreciation for individual opinions
We believe that relationships are an integral part of our daily lives which includes support and equality for one another
We take pride in making a difference in the lives of our customers and fellow employees while celebrating our achievements together
We appreciate the support of our community
We encourage every opportunity to meet, learn, and respond to new challenges in a trusting work environment
We have an appreciation that every person is an equal contributor to the overall success of Watkin Motors Ford