EXPLORE F-150
Get Behind the Wheel of the F-150
Explore the all-new 2021 F-150, the truck that's leading by example – packed with power, productivity and technology, all in a body that screams tough.
Tougher Than Before, Smarter Than Ever
The all-new 2021 F-150 is purpose-built from the ground up – redesigned to be the toughest, most productive F-150 ever. This is what you get when you merge the power of F-150 with finely tuned intelligence and design. The 2021 North American Truck of the Year. A relentlessly tough, high-strength, military-grade, aluminum-alloy body and torture-tested high-strength steel frame with new tech to help you work smarter and harder.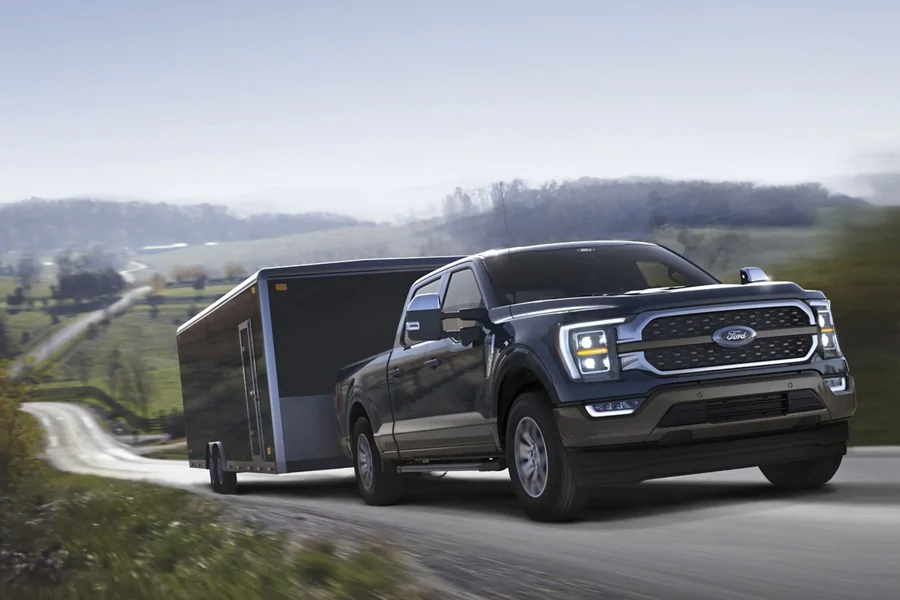 Best-in-class Towing And Payload
No days off. On the job or on the way to the lake, F-150 takes it all on with definitive power and capability. That means best-in-class available towing and payload. Oh yeah. All that power straight from the belly of the beast with six available, relentless engines including the available 3.5L PowerBoost Full Hybrid V6. If that doesn't get your heart pumping, nothing will.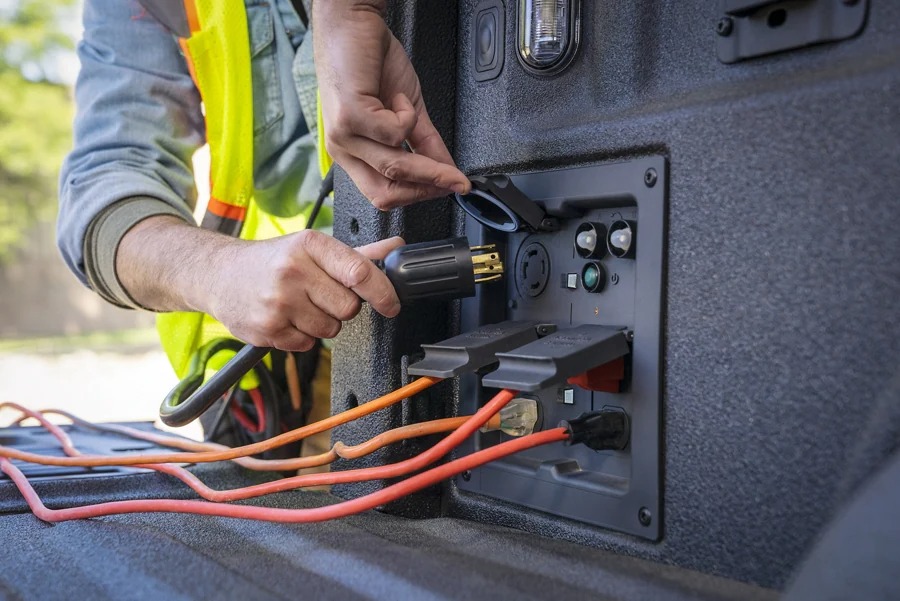 Available Pro Power Onboard
It's that amp turned up, we have liftoff type of power — and your F-150 delivers it, even when parked. Class-exclusive Pro Power Onboard gives you the ability to use your truck like a mobile generator. And with the new, class-exclusive, available 3.5L PowerBoost Full Hybrid V6 engine, you can wield up to a massive 7.2kW of exportable power.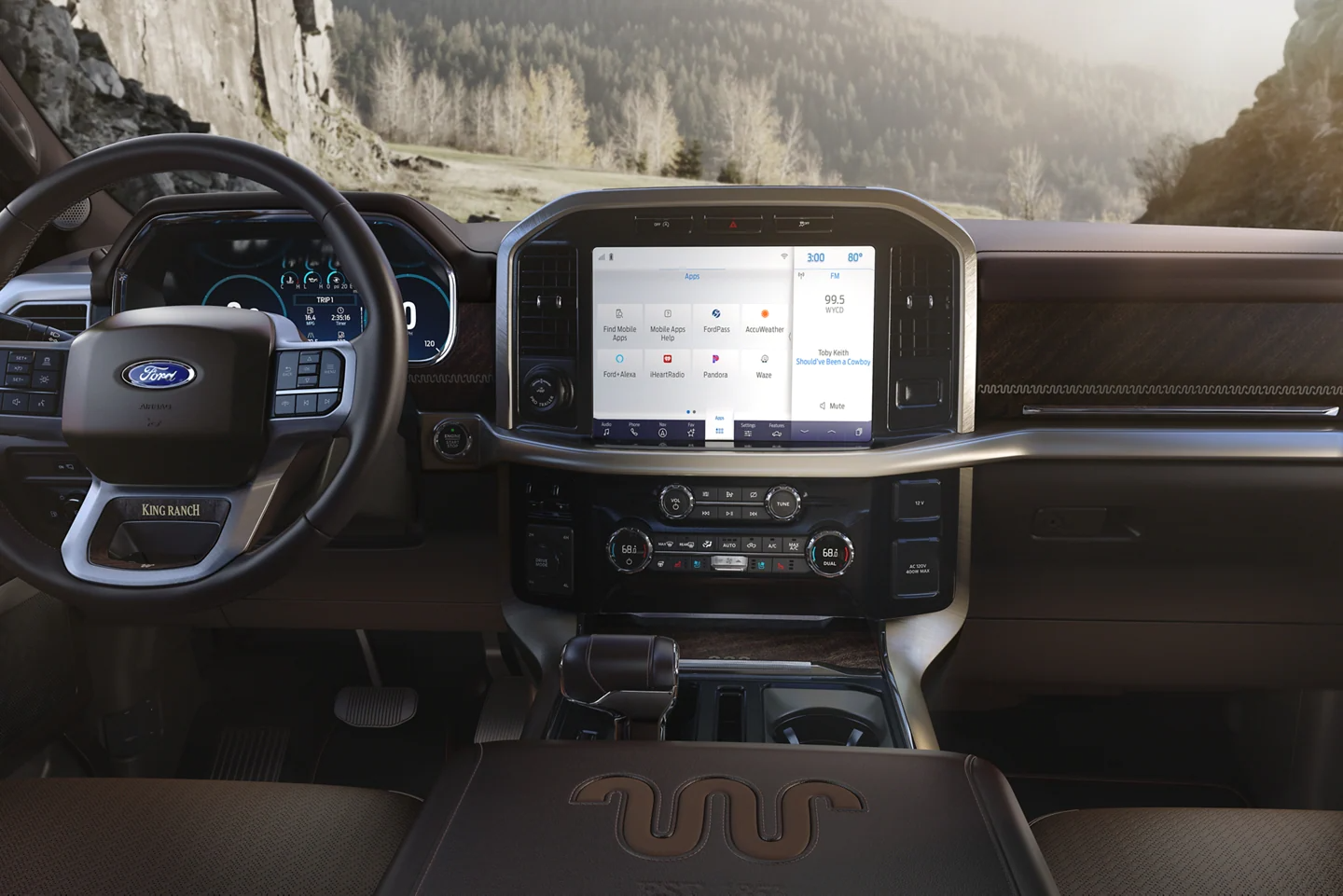 All-new Interior
This is your office, your inner sanctum, your home on the road. Now enhanced with new materials, smart new tech like SYNC 4, an available 12″ touchscreen and new usability features, including an available interior work surface to handle the business end of your business.
The Truck That Never Stops Working
The truck that moves mountains. It also moves boats, bricks and 2x4s. It's the toughest F-150 to date, more than capable and set to outperform every other truck in its class with best-in-class available towing and payload. All in a day's work for the all-new F-150.
Best-in-class Available Towing
The all-new 2021 F-150 doesn't pull punches. But it does pull just about everything else with a best-in-class available towing capability
Best-in-class Available Payload
Backed by the largest public charging network in North America, we are offering an ecosystem of charging solutions to meet all your charging needs. Whether you're on the job, on the road or at home, we have you covered. The extended-range battery comes standard with the 80-amp Ford Charge Station Pro. This allows a peak charging power of 19.2 kW enabled by the battery's dual onboard chargers which means a full charge overnight. 4Like all Ford electric vehicles, every series comes with the 32-amp Ford Mobile Charger which allows you to charge from a traditional 120V or 240V outlet. No special stations required.
Available Class-exclusive Powerboost™
The available 3.5L PowerBoost™ Full Hybrid V6 engine is an army of one, harnessing the combined effort of gas and electric energy in a single powertrain and using its collective might to lift, tow and carry the load. It's the type of raw power that gives this class-exclusive engine an available max towing capability of 12,700 lbs., 430 horsepower and 570 lb.-ft of torque.